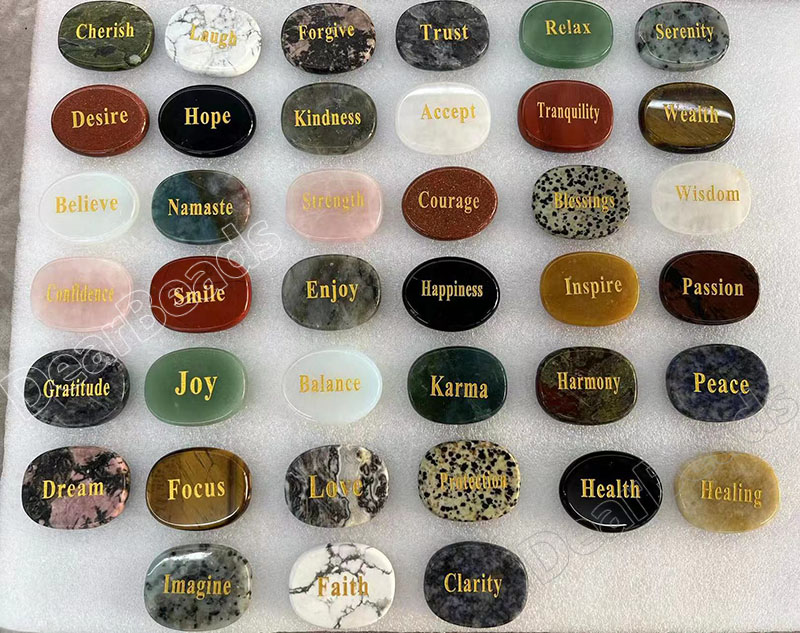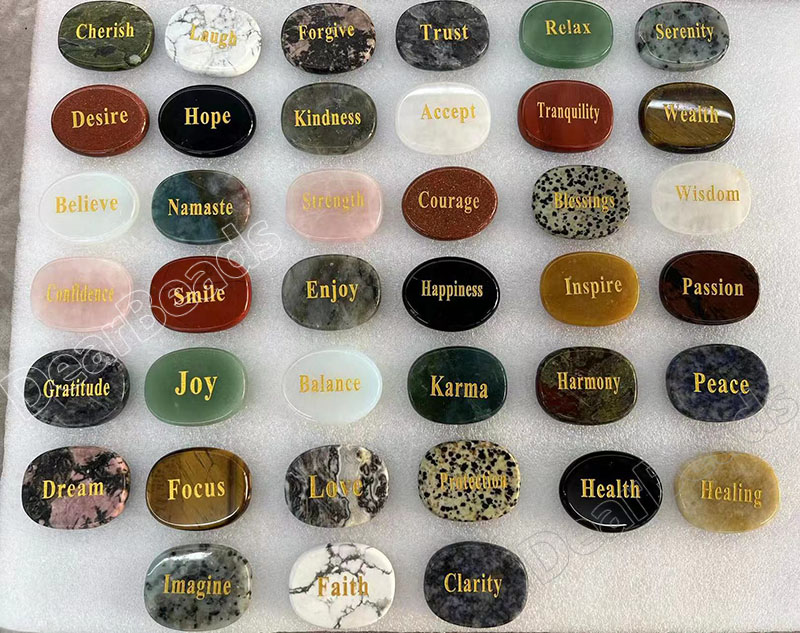 Worry Stones, Flat Pebbles Palm Stone with Inspirational Word Engraved, about 45x35x7mm, Priced 1 pcs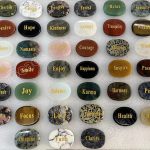 Worry Stones, Flat Pebbles Palm Stone with Inspirational Word Engraved, about 45x35x7mm, Priced 1 pcs
Stone and words are hand pick randomly. If you prefer any words or stones, please leave a note when you place the order. We will try best to meet your requirement!
Description
Additional information
Reviews (0)
Description
Engraved possitive stones is a great way to think clearly about your thoughts and feelings around word stones, it can help you redirect your thoughts, refocus your goals, and improve your mobility, so as to achieve your goals or intentions in real life. All the possitive words are engraved on beautiful natural crystals just like the palette of the earth. Every stone is unique.
There is no doubt that people's minds and self-awareness are very powerful, but it also needs guidance, especially in these prosperous era. With so many negative news and things happening every day in the world, it is very easy to become negative.
However, the same goes for being optimistic.
Inspirational word stones can focus our attention and purpose on these positive words, and when you see the word, the corresponding positive energy will follow. This is the most simple function of this stone.
Benefits of Crystals
From natural quartz, amethyst, to jasper. Their natural earth-enhanced crystalline energy allows us to relax our tension while concentrating, stabilize our mood, and allow us to focus on our goals with less effort.
Different crystals carry different positive energies. For example, rose quartz and rhodonite worry stone can bring you beautiful love. Red Jasper is known for its healing effects on grounding and endurance. Green Aventurine is said to provide strength, confidence and courage.
How to Use the Inspirational Word Stones
The first thing is to find crystals and words that resonate with your intention. As you know, different crystals carry different positive energies.
Here are some ways to take advange of these words stone to bring positive things into your life.
Carry the word stone in your pocket
They're well polised and their decent size makes them easy to carry around.
So the best way to use them is to keep a few of your favorite stones in your pocket. This will help you bring positive energy into your life and repel negative energy. It reminds you every time you put your hand in your pocket, guide you to achieve your goals.
Put the word stone next to your computer
With the explosion of wireless electronics, radiation has become a hot and worrying topic. There are many crystals that seem to be especially good at preventing screen radiation. Such as agate, carnelian, shungite, aventurine.
Putting a few on your desk will not only protect against radiation hazards, but also remind you to focus on your work and achieve your goals.
When you meditate, place a few rocks by your side or hold them in your hands and create around thoughts and images related to positive words.
If you hold rose quartz or rhodonite when meditation, it will help you focus your attention and purpose on being in love. It evokes the love of your life, your family, your friends, and your partner. Thus sparking your passion for a better life.
Put a stone next to your bed or under your pillow. Healing crystals allows you to fall asleep peacefully and treat insomnia. Wake up every morning and start your day full of energy with your goals and intentions in mind.
In addition, inspirational word stones are wonderful gifts for kids, friends and family. It brings good wishes and encouragement.
Additional information
| | |
| --- | --- |
| Weight | 28 g |
| Main Material | Gemstone |
| Size | Freeform |
| Hole Size | No Hole |
| Embellishment | Smooth, Carved |
| Treatment | Natural, Synthetic, With Word |
| Metal Color | No Metal |
| Theme | Love & Heart, Signs, Symbols & Affirmation |
| * | The color may be slightly different from the picture because of different display device. |
Only logged in customers who have purchased this product may leave a review.