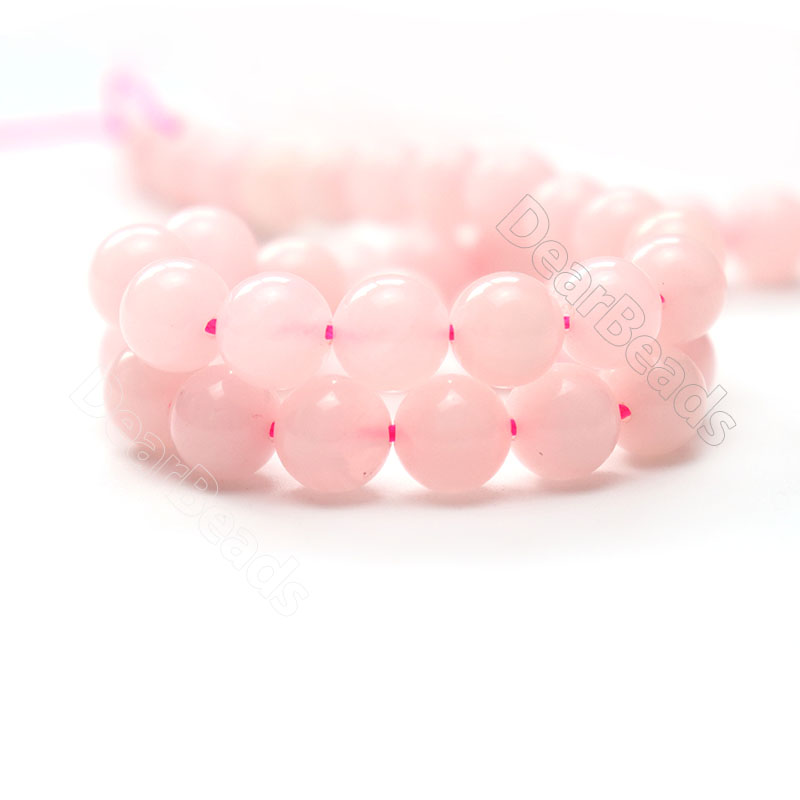 Natural Rose Quartz Beads, Round, 4mm 6mm 8mm 10mm 12mm, Length about 15"
Natural Rose Quartz Beads, Round, 4mm 6mm 8mm 10mm 12mm, Length about 15"
$1.33 – $3.51
$1.33 – $3.51
Description
Additional information
Reviews (3)
Description
Rose Quartz is the most famous love gemstone and is popular for its beautiful, gentle pink color. Its pink color is due to titanium content, and if exposed to sunlight for a long time, it will lose its original delicate color. The main origins come from: Brazil, South Dakota, Colorado, Madagascar, etc.
Most rose quartz beads on the market is pink wax coated to maintain a uniform color, beautifully enhanced to bring out their natural beauty.
Rose Quartz Meaning
Rose quartz mainly develops the heart chakra and strengthens the health of cardiopulmonary function. It can relax tension, relieve irritability, help to go deep into the heart, discover self and improve understanding. Rose quartz crystal exudes a gentle and attractive pink light, which can help improve interpersonal relationships, increase popularity and business relationship, and is the best weapon to open the door for business. Pink crystal can enhance the pink light in its own aura. Pink is the color of Venus, the god of love, showing love.
Rose Quartz Cleansing and Maintenance
Rose Quartz Cleansing – How to Clean Crystals
1. Put it in sea salt water for 3-4 hours.
2. Crystal cluster gorgeode method: place the crystal in a larger geode or crystal cluster for 4-5 hours, the crystal cluster or crystal hole can not only clean, but also increase its energy.
3. Clean them with a sage stick, agarwood or mugwort.
4. Drop 3-4 unilateral pure essential oil into the water. Soak them for 1-2 hours.
5. Put them outside or on a windowsill to clean and recharge during the full moon.
Rose Quartz Maintenance – How to Take Care Rose Quartz
1. Whether it is a rose quartz crystal bracelet or a rose quartz craft, it is a fragile item. When wearing it, pay attention to being knocked, squeezed or collided.
2. Due to the titanium inside rose quartz, rose quartz crystal is easy to fade when exposed to high temperature. Please avoid sun exposure.
3. When not wearing, store the rose quartz separately and avoid placing it together with sharp and hard objects.
4. Do not wear rose quartz product when bathing, makeup, housework, sports, etc. to avoid corrosion by chemical components or acid-base substances.
Additional information
| | |
| --- | --- |
| Weight | N/A |
| Size | 4mm, 6mm, 8mm, 10mm, 12mm |
| Hole Size | 2mm-3mm bead: 0.5-0.8mm; 4mm-8mm bead: 0.8-1.2mm; 10mm bead: about 1-1.5mm; 12mm-14mm bead: about 1.5-2mm. |
| Color | Pink |
| Embellishment | Smooth |
| Shape | Round |
| Treatment | Natural |
| * | Sold as 1 strand. Shapes, sizes and colors may vary in each lot. |