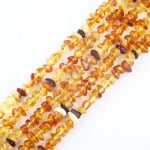 Natural Baltic Amber Chip Beads, Heated, about 4-6mm, 5-8mm, Length 15"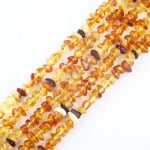 Natural Baltic Amber Chip Beads, Heated, about 4-6mm, 5-8mm, Length 15"
$6.31
$6.31
Description
Additional information
Reviews (0)
Description
Amber beads are expected to contain inclusions and are semitransparent to opaque. As product is handcrafted, sizes, shapes and colors may vary in each lot.
Amber was born 40 to 60 million years ago, which belongs to the so-called Eocene in geology. It is a fossil of the precious pine resin that has undergone high pressure and high heat extrusion from the earth's rock formations.
Amber is an amorphous organic semi-precious stone, delicate and light, with a warm and delicate touch. Amber has a wide variety of colors, with yellow being the most common, but also red, green and very rare blue.
After 1600 BC, the inhabitants of the Baltic Sea used tin and amber as currency to trade with the tribes in the southern regions in exchange for copper weapons or other tools. In the second millennium BC, the Mecenaeans, Phoenicians and Etruscans in central Europe jointly formed a commercial network of amber (Note: Etruria is an ancient country located in western Italy). During the same period, Baltic amber is passed through the Aegean Sea and spread to the eastern coast of the Mediterranean Sea. Archaeologists have excavated bottles and jugs from the ancient Greek Mecenean civilization in Syria, and found Baltic amber necklaces in the containers.
In the fifth century AD, the Romans went on an expedition to the Baltic Sea in search of amber, and the trade in amber also reached an unprecedented pomp during this period. In the Middle Ages, Baltic amber was popular for religious purposes. In the East, amber is also cherished by various ethnic groups, especially Arabs, Persians, Turks and Chinese.
Additional information
| | |
| --- | --- |
| Weight | N/A |
| Hole Size | 2mm-3mm bead: 0.5-0.8mm; 4mm-8mm bead: 0.8-1.2mm; 10mm bead: about 1-1.5mm; 12mm-14mm bead: about 1.5-2mm. |
| Shape | Chip |
| Color | Multi-color, Yellow, Gold |
| Embellishment | Smooth |
| Treatment | Heated |
| * | Sold as 1 strand. Shapes, sizes and colors may vary in each lot. |
Only logged in customers who have purchased this product may leave a review.