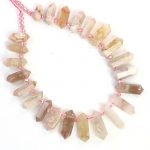 Natural Sakura Agate, Graduated Double Terminated Top Drilled Point Beads, Length about 15"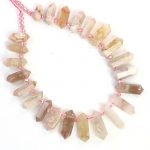 Natural Sakura Agate, Graduated Double Terminated Top Drilled Point Beads, Length about 15"
$14.15
$14.15
Size approx. (20-45)mm x (8-12)mm; Between point bead have crystals spacer to protect the bead.
Sakura agate is also known as cherry flower agate / cherry blossom agate.
* size vary between strands and some bead might be smaller or bigger.
Description
Additional information
Reviews (0)
Description
Sakura agate also known as cherry blossom agate, Sakura agate is mainly found in Madagascar and Brazil. It has become more and more popular thanks to its pink-white and "cherry blossom-like" characteristic inclusions. The special white petal-shaped inclusions and light pink matrix are integrated with each other, which has a strong ornamental and collection value. In recent years, the price has been rising all the way. Sakura agate inclusions can be light pink, pale pink, pink-orange, reddish-brown, white, light gray-purple, and even green. Green cherry blossom agate is relatively rare, and the price is higher than other colors. These beautiful inclusions are composed of clustered inclusions in different directions and planes, showing a vague and hazy feeling.
Sakura Agate Healing Properties
Sakura agate is especially suitable for women, it is said that it can regulate female hormones, reconcile qi and blood, and is effective for women with hormonal disorders during menopause. At the same time, it can also relax and relieve the pressure, at the same time, it can also reduce the symptoms of insomnia and dreaming, and effectively improve the quality of sleep.
Additional information
| | |
| --- | --- |
| Weight | 120 g |
| Size | Freeform |
| Hole Size | about 2mm |
| Shape | Point |
| Color | Multi-color |
| Embellishment | Freeform, Faceted |
| Treatment | Natural |
| Drill Orientation | Top-Drilled |
| * | As product is handmaded, size, shape and colors may slightly different in each lot. |
Only logged in customers who have purchased this product may leave a review.