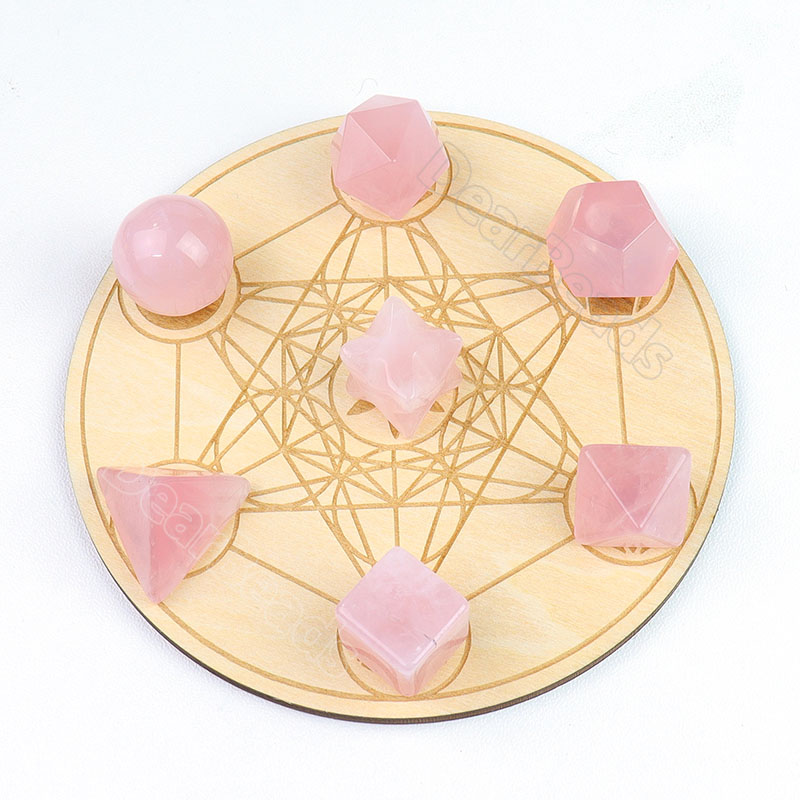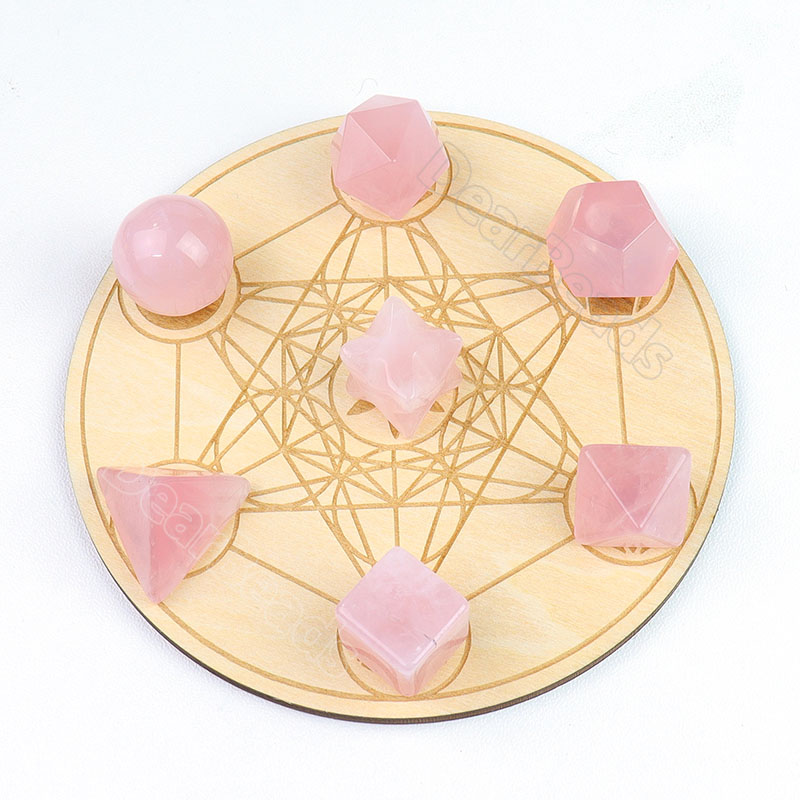 Rose Quartz Platonic Solids Sacred Geometry Crystals Set, Reiki Healing Crystals, Priced 1set
Rose Quartz Platonic Solids Sacred Geometry Crystals Set, Reiki Healing Crystals, Priced 1set
$7.90 – $8.35
$7.90 – $8.35
Description
Additional information
Reviews (0)
Description
This Rose Quartz Sacred Geometry Crystals Set includes:
Tetrahedron, size about 20*20*14mm.
Hexahedron (Cube), size about 14*14mm.
Octahedron, size about 15*20mm.
Dodecahedron, size about 16*20mm.
Lcosahedron, 16*20*20mm.
Sphere, size about 16-18mm.
Merkaba star, 21-22mm.
Wood Grid Plate Diameter: about 100mm.
Rose Quartz Platonic Solids Crystals are a unique and beautiful addition to any crystal collection. Made from high-quality rose quartz, these crystals have been carefully crafted into the five Platonic Solids, each with its own unique sacred geometry. These shapes have been used for centuries in spiritual and healing practices, and are believed to hold special energy and properties.
The five Platonic Solids included in this set are the tetrahedron, hexahedron (cube), octahedron, dodecahedron, and icosahedron. Each solid has been carefully carved and polished to show off the natural beauty of the rose quartz, with its soft pink hue and subtle translucence.
Whether you are an experienced crystal healer, or simply looking to add some beauty and positive energy to your space, these Rose Quartz Platonic Solids are a perfect choice. Place them in your home, office, or meditation space to enjoy their beauty and the benefits of their sacred geometry. With their unique and timeless design, they make a wonderful gift for yourself or a loved one.
So, if you're looking to elevate your crystal collection, add a touch of beauty and positive energy to your space, or simply enjoy the natural beauty of rose quartz, these Rose Quartz Platonic Solids are the perfect choice.
Additional information
| | |
| --- | --- |
| Weight | N/A |
| Main Material | Gemstone |
| Color | Pink |
| Shape | Round, Triangle, Star, Others |
| Treatment | Natural |
| Drill Orientation | Undrilled |
| Theme | World Culture & Religion |
| * | As material is from nature, size and colors may be vary in each piece., The color may be slightly different from the picture because of different display device. |
Only logged in customers who have purchased this product may leave a review.