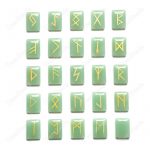 Rune Stones Sets, Synthetic Jade, Engraved Pagan Lettering, Alphabet, Size 15x20x6mm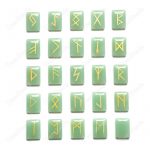 Rune Stones Sets, Synthetic Jade, Engraved Pagan Lettering, Alphabet, Size 15x20x6mm
$5.99
$5.99
Rune Stone Set of 25 stones, including 24 stones with engraving and one blank stone.
The word Rune means secret or mystery. The carvings on these stones are ancient Futhark runes, which is the oldest known rune letter Albert, makes this set perfect for Wiccans and Pagans as each stone has magical properties. Ancient European monks regarded them as tools for communicating with the gods, but now, when people are meditating, they will grab runes and use them as answers.
Description
Additional information
Reviews (0)
Description
Rune stones are a tool to help you find the answers to the questions that you have been looking for. It guides your thoughts to your hidden emotions, dreams and ambitions that you have. Once you have discerned what it is you want, you are in a better position to influence your own future goals and destiny.
Each set holds 24 different rune alphabet symbols engraved on gemstones, each symbol holds its own meanings.
How to use Rune stones?
Lay a cloth on the table; this is your 'background' against which you cast your rune stones. Draw three circles on the cloth so that there is an inner, middle and outer circle. Inner circle represents self , the middle circle 'influences'; and the outer 'future events'. You can cast as many rune stones as you want but it is usual to cast six stones. Shake the rune stones in a bag well and at the same time ask yourself the question you wanted an answer to and still with your question in your mind, pick out six rune stones and drop them against the background. Where they land will guide you to interpret their message.
What do the runes mean?
Fehu – Luck, money, wealth, abundance
Thurisaz – Catharsis, change, cleansing
Raido – Travel, journey, relocation
Gebo – Balance, partnership, gifts
Hagalaz – Disruption, testing, controlled crisis
Isa- Challenge, frustration, standstill
Eihwaz – Strength, reliability, trusts
Algiz – Protection, guardian, status quo
Tiwaz – Honour, justice, leadership
Ehwaz – Progression, harmony, partnership
Leguz – Renewal, birth, motherhood
Dagaz – Awakening, awareness, enlightment
Uruz – Physical strength, potency, vitality
Ansuz – Insight, vision, wisdom
Kenaz – Revelation, creativity, passion
Wunjo – Joy, comfort, pleasure
Nauthiz – Conflict, confusion, patience
Jera – Happiness, peace, hopes
Perthro – Hidden meaning, fellowship, initiation
Sowelo – Success, goals, honour
Berkana- Fertility, growth, new beginnings
Mannaz – Intelligence, forethought, skill
Ingwaz – Common sense, caring, love
Othela – Inherited possessions, heritage, fundamentals
Additional information
| | |
| --- | --- |
| Weight | 120 g |
| Shape | Rectangle |
| Embellishment | Smooth, Carved |
| Color | Green |
| Treatment | Synthetic, With Word |
| * | The color may be slightly different from the picture because of different display device. |
Only logged in customers who have purchased this product may leave a review.