Catholic Rosary Beads Necklace, Black Onyx, Hematite, Priced 1pcs(NKKS1001-C)
Catholic Rosary Beads Necklace, Black Onyx, Hematite, Priced 1pcs(NKKS1001-C)
$4.68
$4.68
Description
Additional information
Reviews (0)
Description
Bead size: 8mm and 10mm
Hematite Pendant size: 42*30mm
Length: 65-70cm
Rosary Beads Meaning
Rosary beads are an important part of the Catholic tradition and are often used as a tool for prayer and meditation. They are a tangible reminder of the devotion to the Virgin Mary and the central role of Jesus Christ in the Catholic faith. Rosary beads are also a beautiful and spiritual addition to any collection of religious or spiritual items.
The meaning of rosary beads is rooted in the Catholic tradition and devotion to the Virgin Mary.
How To Use Rosary Beads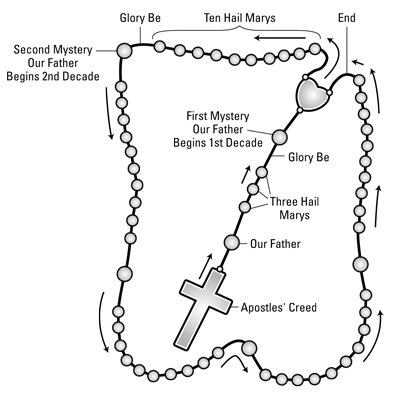 To use rosary beads, hold the rosary beads in your hands and make the sign of the cross by touching your forehead, chest, left shoulder, and right shoulder with your right hand. Then, begin by saying the Apostle's Creed, followed by the Our Father. After the Our Father, move to the next bead and say three Hail Marys. Continue moving through the beads and saying the Our Father and three Hail Marys on each bead until you reach the rosary center.
At the rosary center, say the Glory Be, followed by the Fatima prayer if desired. Then, move to the next set of beads and repeat the process until you have prayed all five decades of the rosary. To conclude the rosary, say the Hail Holy Queen and make the sign of the cross.
Some people also like to meditate on a specific mystery or theme during each decade of the rosary, such as the Joyful Mysteries or the Sorrowful Mysteries. This can help to focus the mind and deepen the spiritual experience of praying the rosary.
Additional information
| | |
| --- | --- |
| Weight | 75 g |
| Main Material | Gemstone |
| Shape | Round |
| Color | Black |
| Metal Color | Metal Free |
| Embellishment | Smooth |
| * | As product is handmaded, size, shape and colors may slightly different in each lot. |
Only logged in customers who have purchased this product may leave a review.