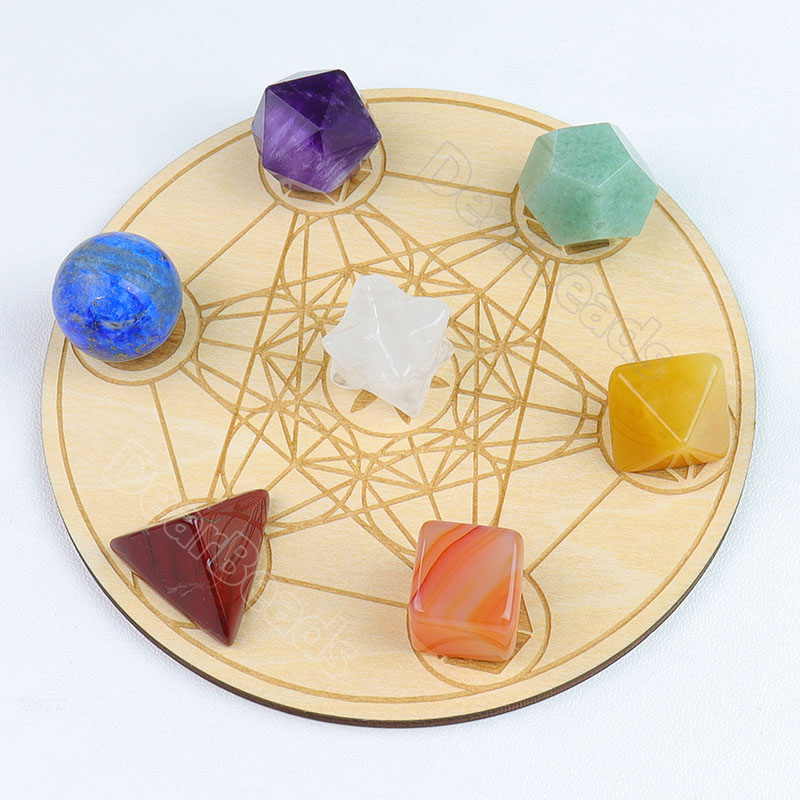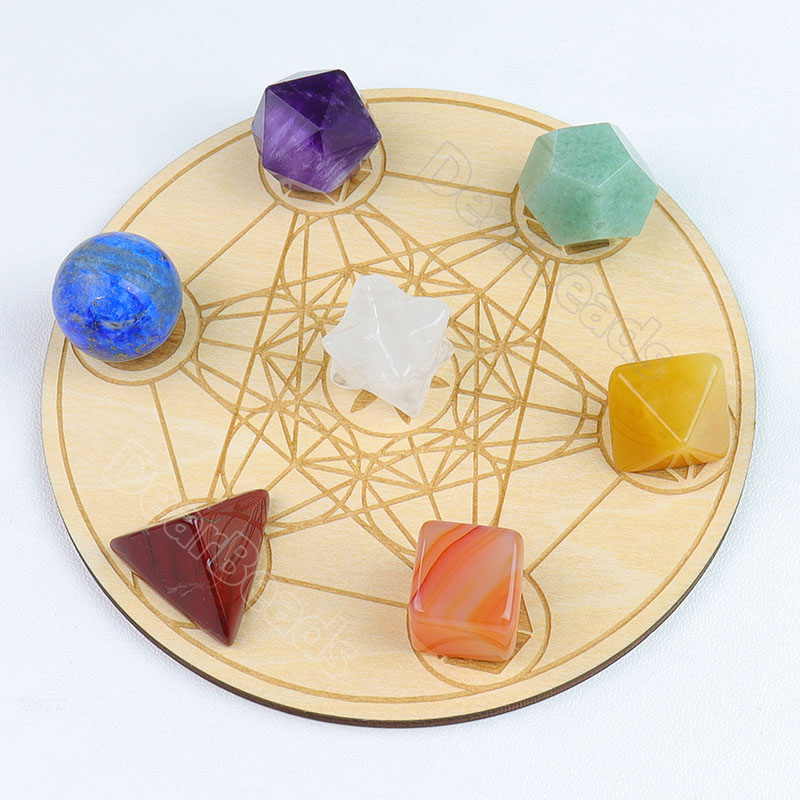 Platonic Solids Sacred Geometry Crystals Set, 7 Chakras Reiki Healing Crystals, Priced 1set (DBTZ1019)
Platonic Solids Sacred Geometry Crystals Set, 7 Chakras Reiki Healing Crystals, Priced 1set (DBTZ1019)
$7.90 – $8.35
$7.90 – $8.35
Description
Additional information
Reviews (0)
Description
This Platonic Solids Crystals Set includes:
Red Jasper: Tetrahedron, size about 20*20*14mm.
Red Agate / Carnelian: Hexahedron (Cube), size about 14*14mm.
Yellow Jade: Octahedron, size about 15*20mm.
Green Aventurine: Dodecahedron, size about 16*20mm.
Lapis Lazuli: Sphere, size about 16-18mm.
Clear Quartz: Merkaba star, 21-22mm.
Amethyst: Lcosahedron, 16*20*20mm.
Wood Grid Plate Diameter: about 100mm.
7 Chakras Platonic Solids Crystals are a unique and powerful combination of ancient geometry and modern spirituality. Each crystal represents one of the seven chakras, the energy centers of the body, and one of the five platonic solids. The five platonic solids, which are geometrical shapes that have been revered for thousands of years for their perfect symmetry and proportion. The platonic solids include the tetrahedron, hexahedron (cube), octahedron, dodecahedron, and icosahedron.
These crystals are made from high-quality, polished materials that have been chosen for their ability to magnify the energy of each chakra. The geometric shapes of the platonic solids are etched into the surface of each crystal, creating a stunning display of light and shadow that is sure to catch the eye.
In addition to their beauty, 7 Chakras Platonic Solids Crystals are believed to have powerful healing properties. By placing the appropriate crystal on each chakra, you can help to balance your energy and promote overall well-being. Whether you're a spiritual seeker, a crystal enthusiast, or just looking for a beautiful and meaningful piece of home décor, 7 Chakras Platonic Solids Crystals are the perfect choice. So why wait? Start exploring the power and beauty of 7 Chakras Platonic Solids Crystals today!
Additional information
| | |
| --- | --- |
| Weight | N/A |
| Main Material | Gemstone |
| Color | Blue, Green, Red, Purple, Yellow, White, Orange |
| Shape | Round, Triangle, Star, Others |
| Treatment | Natural |
| Drill Orientation | Undrilled |
| Theme | World Culture & Religion |
| * | As material is from nature, size and colors may be vary in each piece., The color may be slightly different from the picture because of different display device. |
Only logged in customers who have purchased this product may leave a review.