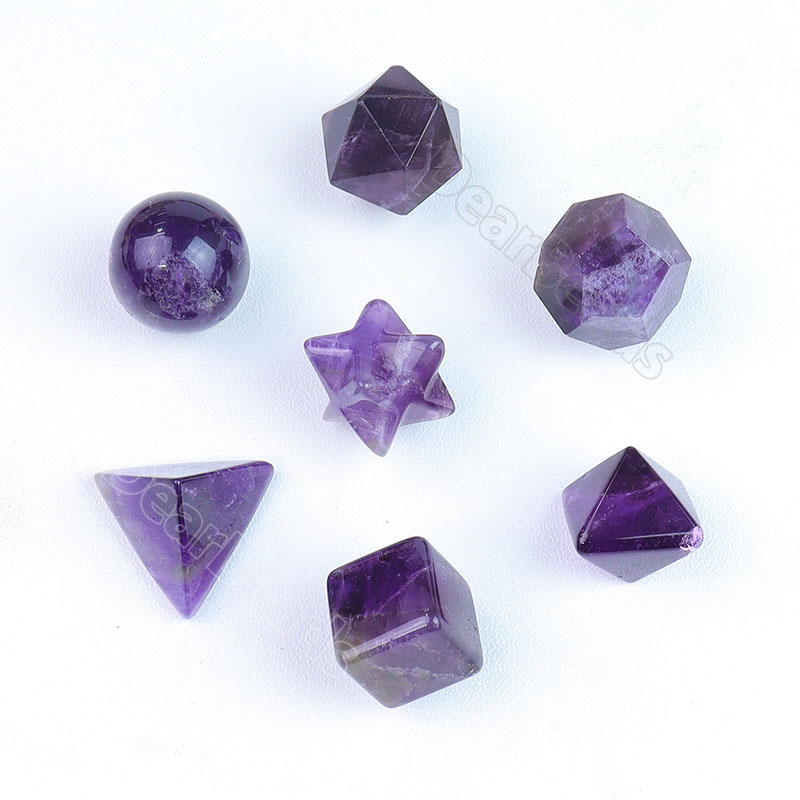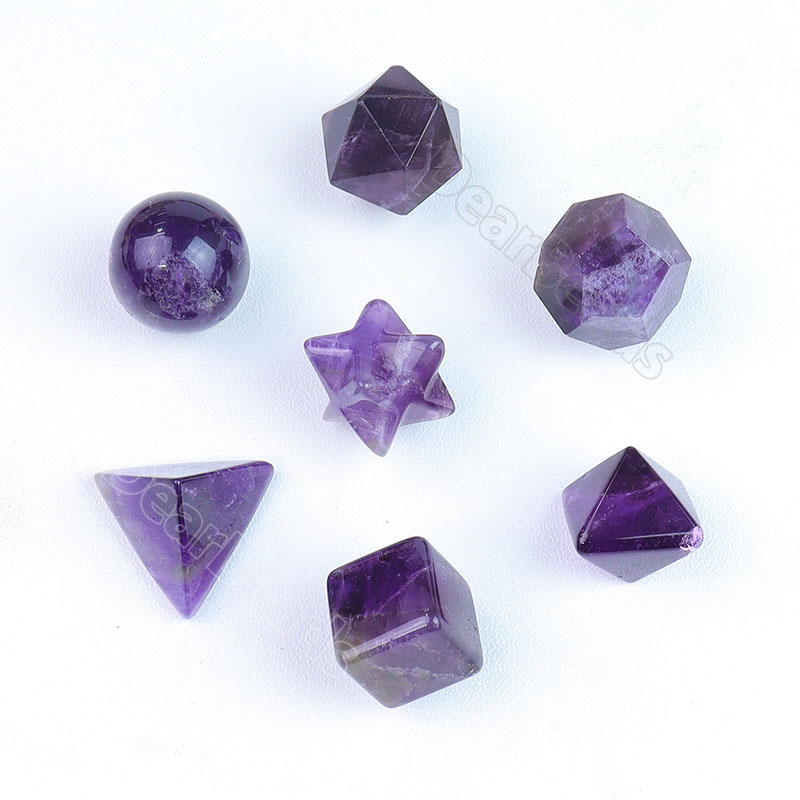 Amethyst Platonic Solids Sacred Geometry Crystals Set, Reiki Healing Crystals, Priced 1set
Amethyst Platonic Solids Sacred Geometry Crystals Set, Reiki Healing Crystals, Priced 1set
$9.34 – $9.76
$9.34 – $9.76
Description
Additional information
Reviews (0)
Description
This Amethyst Sacred Geometry Crystals Set includes:
Tetrahedron, size about 20*20*14mm.
Hexahedron (Cube), size about 14*14mm.
Octahedron, size about 15*20mm.
Dodecahedron, size about 16*20mm.
Lcosahedron, 16*20*20mm.
Sphere, size about 16-18mm.
Merkaba star, 21-22mm.
Wood Grid Plate Diameter: about 100mm.
Amethyst Platonic Solids Crystals Set is a unique and beautifully crafted collection of sacred geometry crystals. Made from high-quality amethyst, these solids are carefully crafted to embody the platonic solids, which are five basic three-dimensional shapes that have been considered the building blocks of the universe since ancient times.
Each solid is carefully carved to the exact specifications of one of the platonic solids, with precise angles and lines that allow the crystal to radiate a stunning, almost otherworldly beauty. The smooth, polished surface of each solid is the perfect canvas for the deep purple hues of the amethyst, making them a true statement piece that is sure to be the centerpiece of any room.
In addition to their beauty, these platonic solids are believed to have powerful spiritual and healing properties. Amethyst is a natural crystal that is known for its ability to promote calmness, balance, and clarity of mind, and when combined with the sacred geometry of the platonic solids, it creates an even more powerful energy.
Whether you're looking for a beautiful decorative piece for your home or a tool for spiritual growth and healing, these Amethyst Platonic Solids are a must-have for anyone who appreciates the beauty and power of sacred geometry and natural crystals. So why wait? Add one of these amazing solids to your collection today and experience the beauty, power, and magic of Amethyst Platonic Solids Sacred Geometry Crystals!
Additional information
| | |
| --- | --- |
| Weight | N/A |
| Main Material | Gemstone |
| Color | Purple |
| Shape | Round, Triangle, Star, Others |
| Treatment | Natural |
| Drill Orientation | Undrilled |
| Theme | World Culture & Religion |
| * | As material is from nature, size and colors may be vary in each piece., The color may be slightly different from the picture because of different display device. |
Only logged in customers who have purchased this product may leave a review.