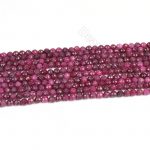 Faceted Ruby Beads, about 6mm, 65 Beads, Length 15"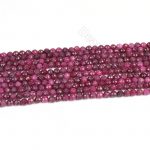 Faceted Ruby Beads, about 6mm, 65 Beads, Length 15"
$12.68
$12.68
Description
Additional information
Reviews (0)
Description
Ruby Beads Meaning
1). Enhance vitality. Red symbolizes the exuberance of life and has positive energy. It's said that ruby can enhance the wearer's vitality and make people more energetic and energetic.
2). Boost self-confidence. The ruby is bright, which can enhance the wearer's personal charm, become the focus in the eyes of people, gain attention, enhance self-confidence, facilitate interpersonal communication, and enhance social relationship.
3). Soothe your mood. In Chinese culture, red symbolizes joy and auspiciousness, it can bring joy to the wearer, so as to relax the body and mood, relieve the pressure, tension and worries.
4). Maintain health. Natural ruby beads has a series of effects such as detoxification and eyesight improvement. It's believed that natural ruby can treat diseases such as palpitations and palpitations, and is conducive to promoting the circulation of the body and maintaining the health of the body.
Last but not least, ruby, with its unique brilliance, can radiate the wearer's natural charm and help the wearer attract the attention of the people around them.
Additional information
| | |
| --- | --- |
| Weight | 23 g |
| Size | 6mm |
| Hole Size | 2mm-3mm bead: 0.5-0.8mm; 4mm-8mm bead: 0.8-1.2mm; 10mm bead: about 1-1.5mm; 12mm-14mm bead: about 1.5-2mm. |
| Shape | Round |
| Color | Red |
| Embellishment | Faceted |
| Treatment | Natural |
| * | Sold as 1 strand. Shapes, sizes and colors may vary in each lot. |
Only logged in customers who have purchased this product may leave a review.